Engine
I bought mine from a totalled prelude. auctally i bought the entire car so i had all the small things that i needed here is a list of basic thing you need (email me if you think i forgot somthing)

Engine,make sure the sensor are not damaged like the tp sensor and the map sensor is the the firewall you ganna need that also get the injector resistor if you can, your ganna need that. Your ganna want to replace the timing belt, water pump, oil pump belt and the both tensoners.

Tranny,replace the clutch and resurface or replace the flywheel and throw out bearing now its ganna be way to much trouble later. Its sooo much easier to do it when the motor out of the car. Also you ganna need the entire shifting assembly for a prelude or accord. The shifter itself, the shifting cables both of them,Tranny shift cable mounts. Make sure you get all the part nessasary to bolt it down too.

Shiftlikage- your ganna need a prelude or accord shiftcable assembly. I got mine for 80 bucks. You need the actual shifting assembly and the two cables and the cable mount for the tranny if its not already on there. Your ganna have to cut the hole for the shifter bigger on your car and also cut a small 2.5x3 hole infront of the shifter hole so the cables can be brought into the cabin.

Wiring, i modified my stock 93 si harness to fit the h22 but i needed couple extra plugs so i chopped up the prelude one. Also make sure you have extra wire electrical tape connecter and soldier. You can just crip all the wires but its better if you soldier them and heat shrink.

Axles, you can either use custom axles or stock 90-93 integra axles with an 92-95 prelude halfshaft. or you can use the inner joints off a prelude axle and put it on an 86-89 integra axle with an 90-93 accord halfshaft. I choosed to get custom axles just cuz they where avalible.

Exhaust, must be welded at a muffler shop

Mounts, You can use either Hasport, HCP, or Place mounts heard the Hasport and HCP are really good and hear bad things about Place. but ive never tried them currently im using HCP and so far there working good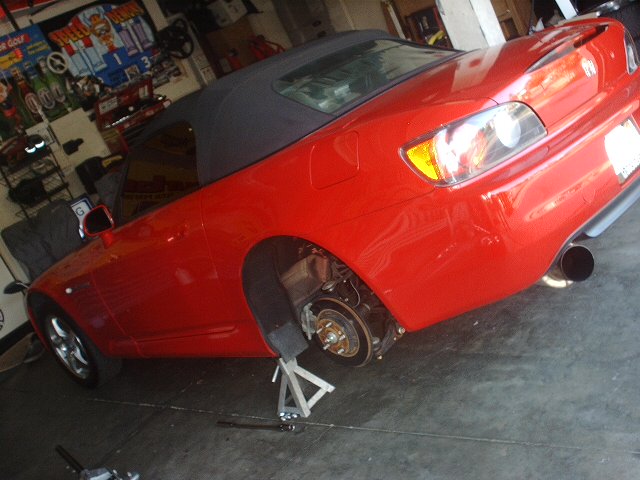 Prices
This swap is not cheap but produces good power.

Engine and trans(ecu,wiring,axles for cores)-1500(bought from a friend)usally around 2500 found one complete motor trans wiring for 3000 with only 6k miles still not even broken in.

Clutch/Flywheel-since you have the motor and trans out you might as well change them now. The motor i had a new clutch so i just got a clutch master flywheel(300). Also change the throw out bearing i forgot to do mine and it rattles when i let out the clutch.

Shiftcables- 80 bucks for all hardware mentioned above.

Axles -stock axles usually run around 60-80 bucks with cores my custom ones cost 250.

Mounts- the HCP ones im using cost me 375.(contact either Newman from jdmshit.com or brian from prospeed. Both nice guys.

Belts, seals, tensoner, gaskets, fluid. I think i spent around 300 for everything. (timing belt,tensoner,waterpump,oilpump gasket, trans seals,aternator belt,oilpump belt,MTF,hoses)

Exhaust- really depends on how much you wanna spend im getting a hotshot race header 375+ custom 2.5 exhaust piping 100 plus Apexi muffler 20(from friend) and 2.5 resenator 25. total 520

engine stand and tools-??? depending on what you need cost varies. The entire swap is possible with had tools like i said before, I perfer hand tools but you diffently need a engine hoist, jack, jack stands, all which my friend had.

Also my helms cost 68 bucks shipped to me. but you can just ask people the questions but if you like working on your car its somthing you have to have.

And finally money to feed your friends that are helping.





Others
AC brakets are avalible the stock prelude with bolt up but the lines do not fit unless you get custom ones. HCP A/C brakets are avalible though Newman and brian. They use your civic compressor but you need to move your fan infront of the compressor. My A/C lines got chewed up by my oil igniton box and P/S rolling around in my engine bay. Make sure you take the extra 5 min to secure them at least zip tie them to sumthing. Or better yet take them out.



heres what i paid for everything
Motor/trans/ecu (95 usdm motor 80k)
shifting cables/assmebly
axles (custom little more than stock ones but their beefier
HCP mounts
---------------- Total---
EXTRA'S

CM flywheel
Hotshot race header
Phantom grip used plus install
Cutting disc/wires/clips/fluids/misc install stuff
Gaskets/waterpump/timingbelts/tensor
----------------------------------- Total---

Total for both ---3410
Install took some time even working fulltime finshed in a week
expect 3-5 days taking your time and doing it right

i know i got my motor cheap but even if you have to pay 2200 for a h22 you still can do the swap with 2905 w/o any extras. Gsr go for how much??? around 3000???